Google Maps bug in Safari 16.0
There is a first aid postscript at the end of this article. (2022.09.21)
I get a strange situation when I browse Google map in Safari 16 on Mac.
At first the map is displayed, but when I move it around or zoom in or out, it goes completely dark… as shown in the image below. And there is noise in the center of the map.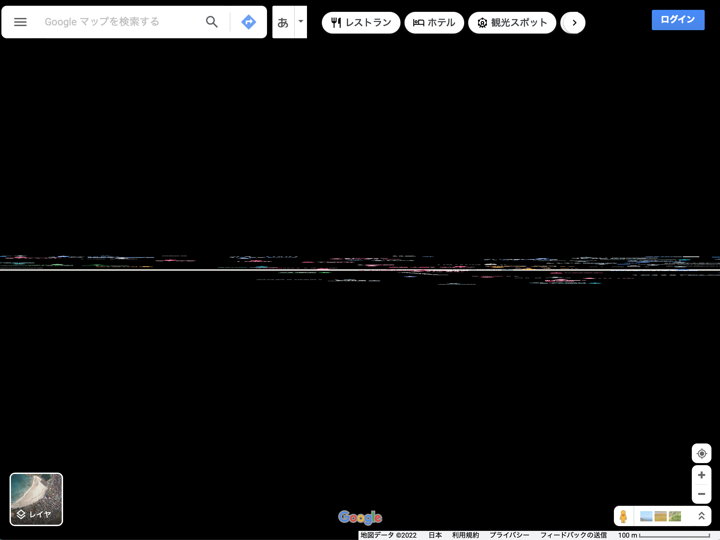 The noise would flicker when I operated the map, but the map was no longer displayed at all.
I noticed the anomaly on the 15th of September.
Just before that, on September 13, I updated Mac OS Monterey 12.6. At the same time, I updated to Safari 16.0.
At first I thought there was a problem with the server. But, if I change the browser to Chrome, I can browse without problems, so the cause is probably in Safari.
However, there was a possibility that there was something wrong with my computer, so I tweeted about it on Twitter with an image.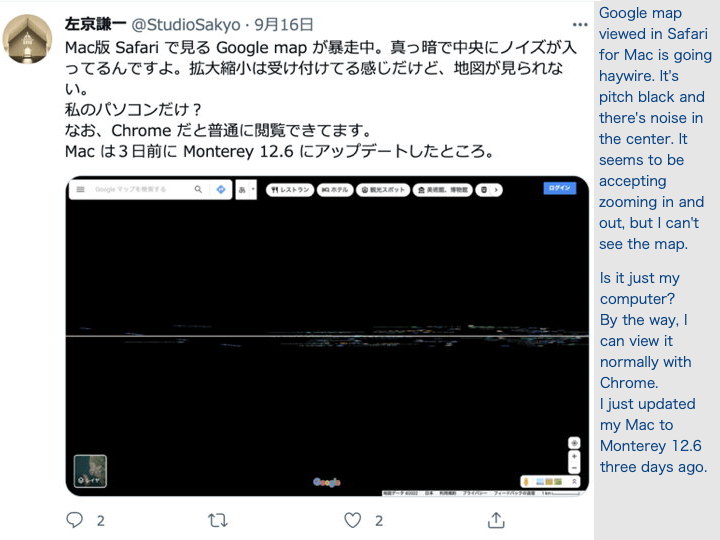 Then, I found a person who had the same problem, and he introduced me to an article he had written on Google Map Help.
It said that his Mac Mini was experiencing the problem, but not his MacBook Pro. The person said that the two models have different graphics cards, so he guesses that it is related to the difference.
I searched Twitter and found other persons with the same symptoms, who also had the problem after updating to Mac OS Monterey 12.6.
Not every Mac has the symptom, but it seems to be on older Macs, like 2014-15. (My Mac is also mid 2015.)
Now that I know it's not an anomaly with my computer, I guess there's nothing in particular I can do on my own.
There is a "Send Feedback" at the bottom right of Google Maps, click on it and we can log in to Google and send a message.
I didn't take a capture when I sent it, so the image below is blank, but I included a screenshot and told them that the anomaly has been occurring since I updated Safari.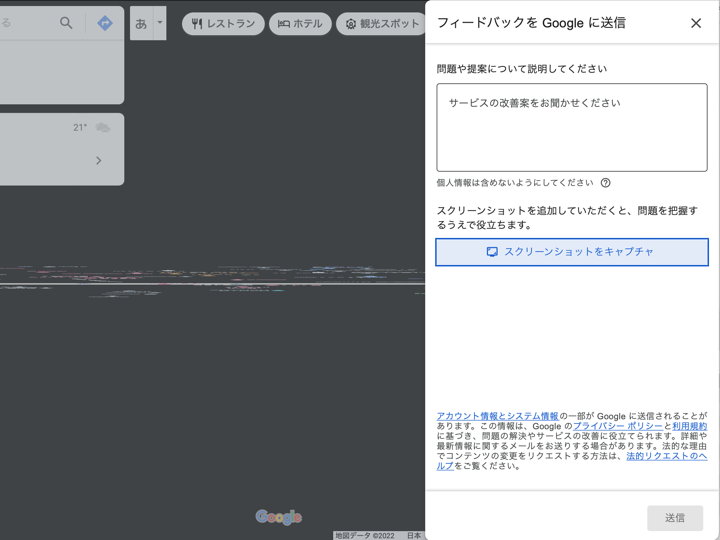 I saw on the English message boards that there were others who had sent feedback to Apple and Google, so perhaps a fix will be forthcoming soon.
As of 7:00 AM on September 17, the display is still strange.
I can work it out by looking at the map in Chrome, so I will wait and hope for a fix.
[Postscript] (2022.09.21)
First Aid Measures
I learned about a workaround on Twitter.
In Safari, go to "Development" and select "Experimental Features" and uncheck "WebGL via Metal". This will allow you to view the map for the time being.
However, it seems that sometimes the rewriting of the map may not go smoothly.
Also, depending on the site, removing "WebGL via Metal" may cause the program to not work properly, so I guess you have to make a decision based on the site you are viewing.
I hope a fixed version will be released.
[Postscript 02] (2022.09.22)
For a while after unchecking "WebGL via Metal", Google Map was unstable and sometimes showed an error message. But probably because I restarted Safari, it seems to have stabilized after that. So I am using Safari with "WebGL via Metal" unchecked.
[Postscript 03] (2022.10.26)
The updater of macOS Monterey 12.6.1 was released on October 25, and the version of safari is now 16.1. After installation, Google Map is displayed correctly, although WebGL via Metal is checked.
[Postscript 04] (2023.01.15)
The same symptom appeared when I had already forgotten about it.
The version of Safari is 16.2.
I unchecked WebGL via Metal again.
---