Pop-up card (the building in Tokushima Prefecture)
I updated pop-up card.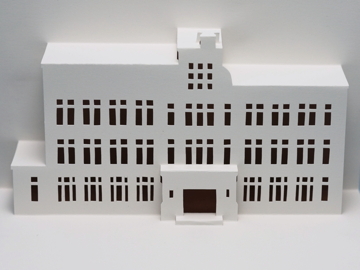 This time there is only one pop-up card. I made the pop-up card of the old Tokushima City Hall which was dismantled. The building was built in 1933. According to the website of Tokushima City, the current government building was opened in 1984, so I guess it was dismantled around 1983 (although I don't know the exact year).
There were fewer photographs on the internet than I expected. So I searched the prewar materials and found the entire photograph in "A Brief History of the Fifty Years of Autonomy" (Tokushima City ed.: 1938).
Actually, I saw also a photo of the government building one generation ago (built in 1897), so I also looked it up. But I found only the photos taken from the outside of the gate, the front part can be seen, but the left and right parts were hidden.
For that reason, I couldn't make the pop-up cards for the government buildings built in the Meiji era, but only for the Showa era government buildings. The pattern is available on the website.
[Addition]
(2016.07.10) The pattern was closed.
---