The exhibition of Keiko Kiyohara
The first floor of the Suzaka City Museum has a free guidance room on the right side. I didn't take a picture of the inside, but there were panels on the wall with information about museums and cultural assets in Suzaka City, and leaflets on the table.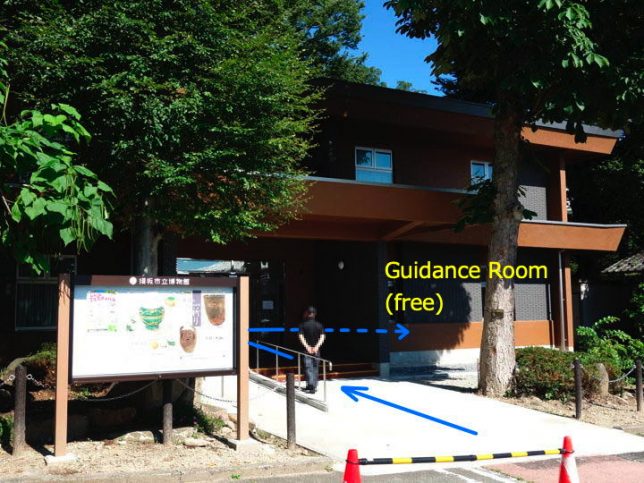 There were pamphlets not only for the branch museum, but also for other facilities and sightseeing spots in the city.
One leaflet there caught my attention.
This was the leaflet that caught my attention. "It said, "Exhibition of Keiko Kiyohara, etching artist who died young.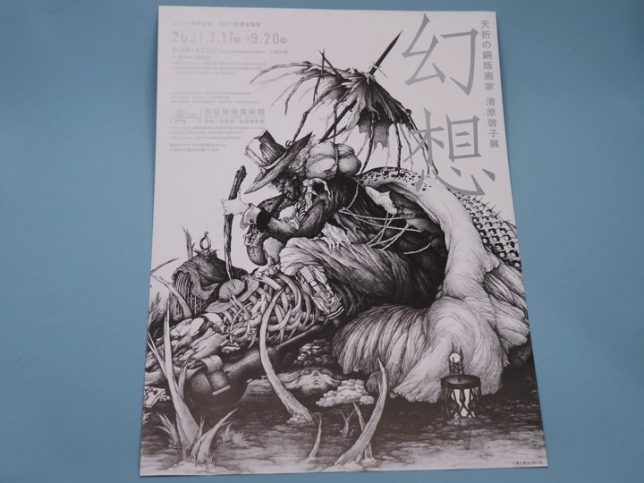 It was a leaflet for an exhibition at the Suzaka Hanga Museum. The exhibition started on July 17, the same day as the renewal of the municipal museum.
I had planned to go to Kasahoko Hall, which is now one of the branch museum, but decided to change my plans.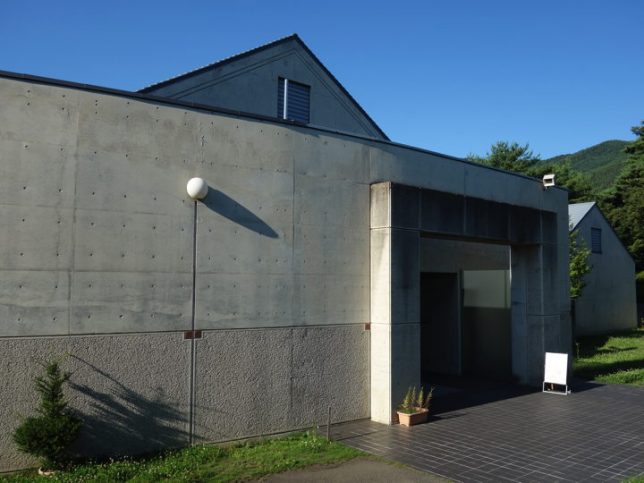 I arrived at the Suzaka Hanga Museum. There is a poster at the entrance, but the sunlight made it completely white in this photo.
Here's a closer shot. Even so, it came out quite white.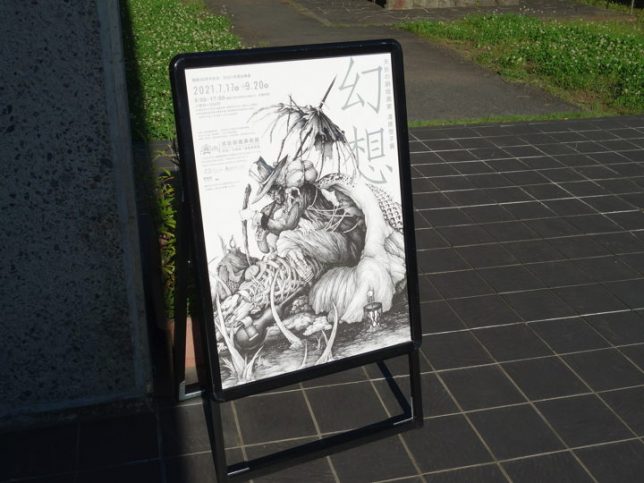 Keiko Kiyohara (1955-1987) was a printmaker who created etchings.
In 1980, when she was a graduate student at Tama Art University, her work was selected for the 48th Exhibition of the Japan Print Association. And in 1982 she was awarded the Japan Print Association Prize, then she began to hold solo exhibitions from 1983.
However, she passed away suddenly from heart failure in 1987, only 30 of her works are left.
The work used in the leaflet and poster is named "Man of the Sea" (1981).
It seems that her theme was to express a fantastic and mysterious world.
Some of the works were displayed side by side with precise sketches so that we could compare them.
There are some works on the back of the leaflet, so I will post the photos taken here.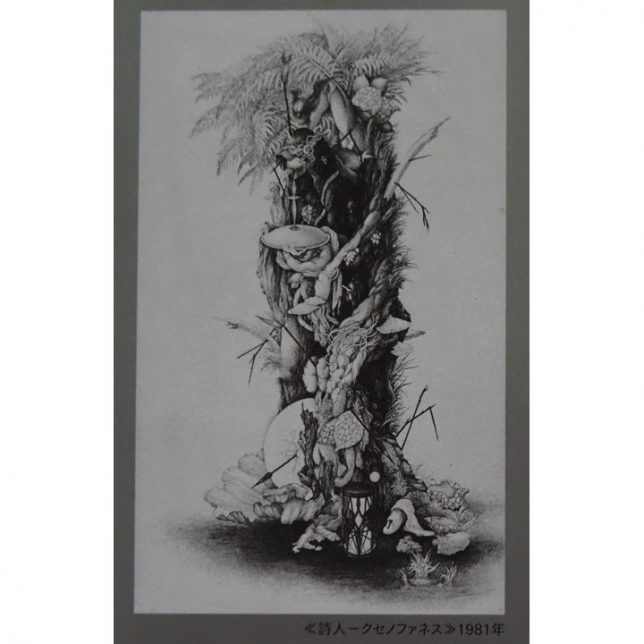 "Poet – Xenophanes" (1981)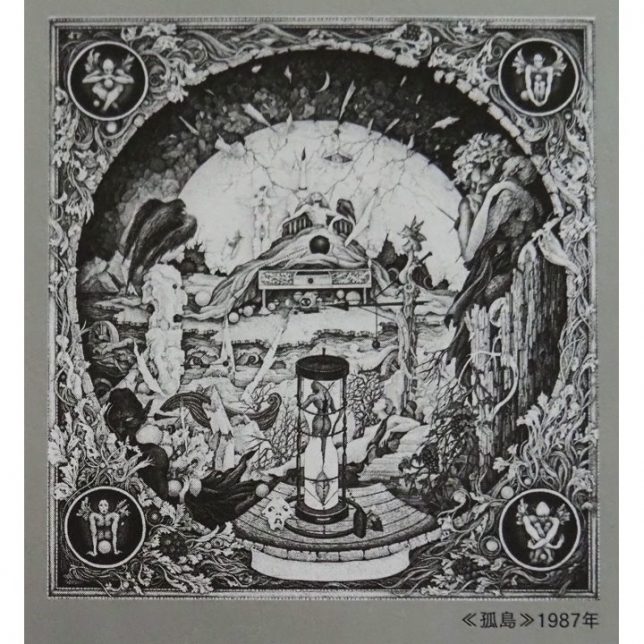 "Isolated Island" (1987)
As I looked at the works in the exhibition hall, I thought of Dürer's "Melancholia".  And also remembered that I had bought a book of European prints and other images edited by Hiroshi Aramata.
Her year of birth is not so far from the year I was born, and her expression theme is close to the field of interest when I was young. so although she is a printmaker I had never known before, I felt a sense of intimacy with her.
The exhibition will be held until September 20.
The building of the museum has a cylindrical walls, so I walked around to see the outside.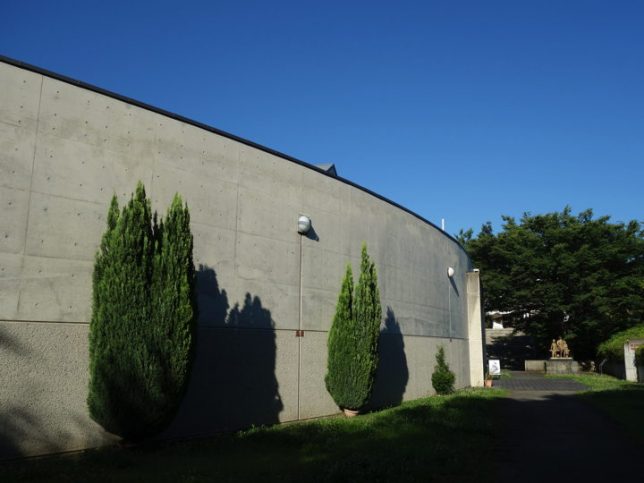 I walked around to the left from the entrance, I found an entrance on the wall that allowed to enter the courtyard.  This part is really only wall.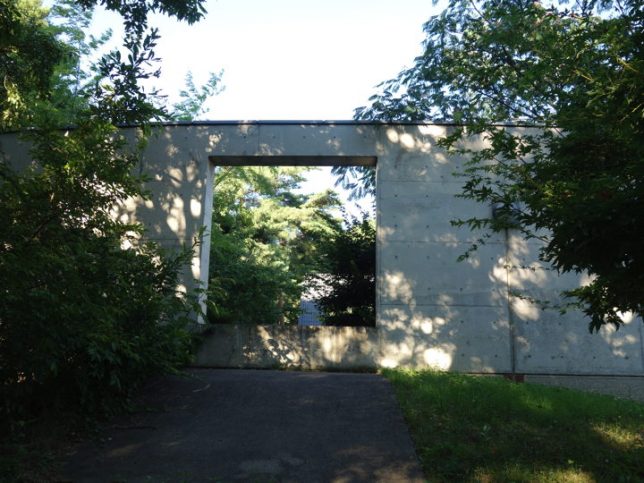 I didn't really understand the shape of the building, so I will post an aerial photograph at the end. The photo above was taken from the position of the arrow.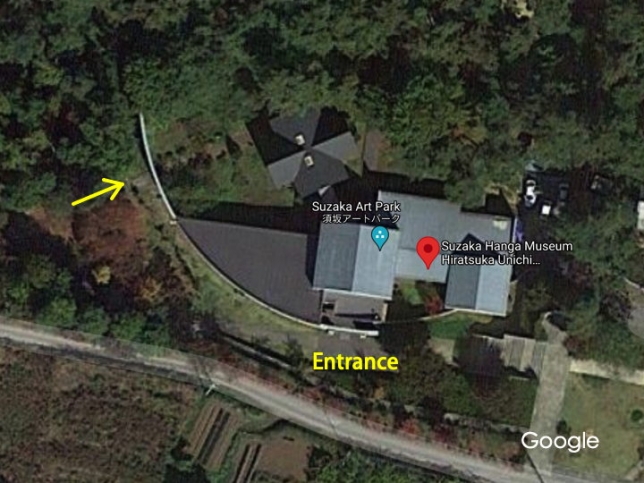 ---