Pop-up Card (The buildings in Toyama Prefecture)
It has been a while since my last update.
I have released new pop-up cards.
This time, these are the cards of the buildings in Toyama Prefecture.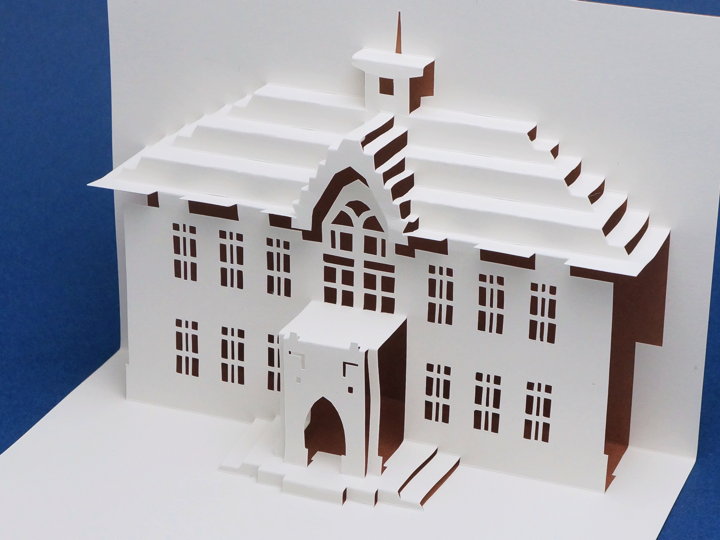 The first photo is the former Kosugi Town Office in Imizu City. The building was built in 1934. The former Kosugi Town is now part of the city of Imizu, and the building is used as the Genzo Takeuchi Memorial Museum.
Although the building was expanded after the World War II, the restoration to its original appearance was began in 2012, and the museum was just reopened in 2014.
The second card is the main building of the Toyama Prefectural Office.
In 2006 (more than 10 years ago), I made the pop-up card of Toyama Prefectural Government, but I found some differences between the actual building and the card, so we decided to remake it.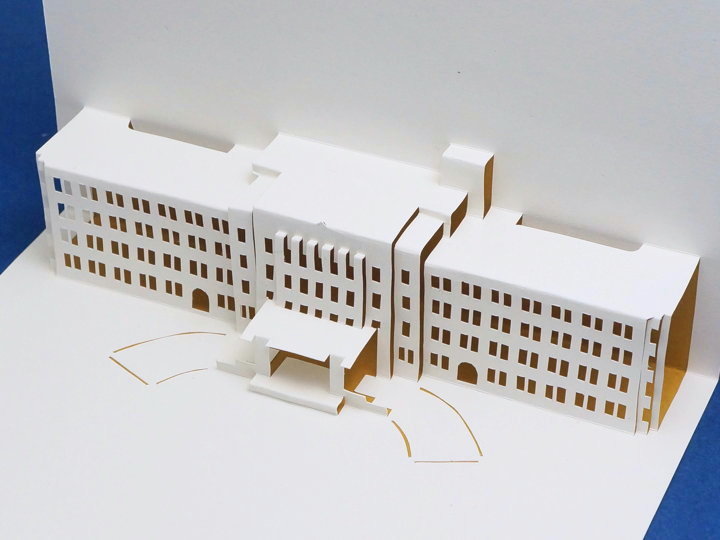 Toyama City was severely damaged in the Toyama Air Raid of August 1-2, 1945. The number of fatalities is difficult to ascertain precisely because it varies from one source to another. Toyama City report said 2,632 people, the data of Toyama City memorial service materials said 2,511, and it is written as 2,275 in "Toyama City history".
Damage to buildings was also extensive, with most private residences in the downtown area destroyed by fire. The only buildings that survived the fire were Toyama Yamato Department Store,  Telephone Office, Toyama Denki Building, Toyama Prefectural Office, Toyama Broadcasting Station, Toyama branch of the Industrial Bank of Japan, and Jinzu Junior High School etc. (According to Toyama Prefecture's history).
Toyama Prefectural Office is one of the remaining buildings after going through such circumstances.
This time, the pattern of the former Kosugi Town Hall is now downloadable. Please use it if you like.
[Postscript]
(2020.07.06) The download of the pattern was closed.
---