I uploaded a holiday card, "Gingerbread house".
This time it is a pop-up card that opens 180° and is a color version.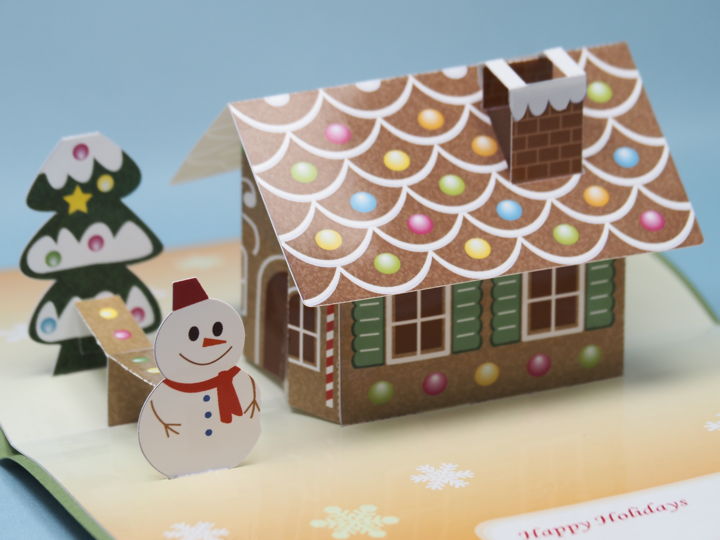 I released the paper pattern. Please download if you like.
The template has two pages, the first page is A4 size and the second page is A5 size. I thought that it would be troublesome to set the paper size for printing if the paper patterns of different paper sizes were put together in one file, so I divided them into separate files.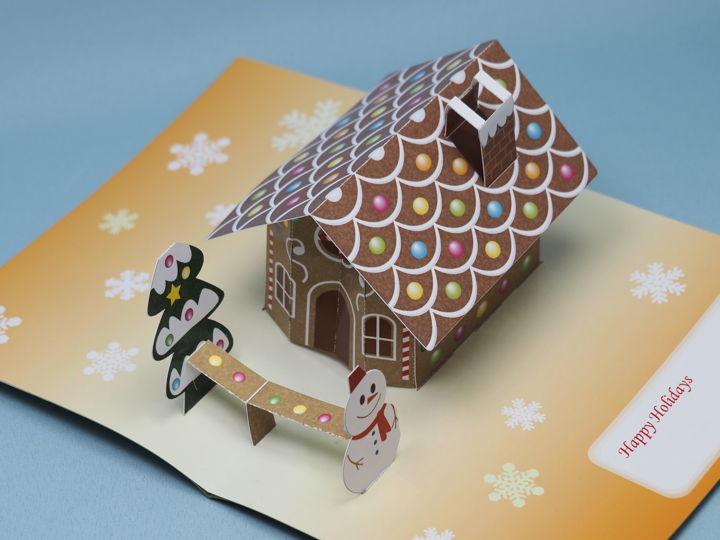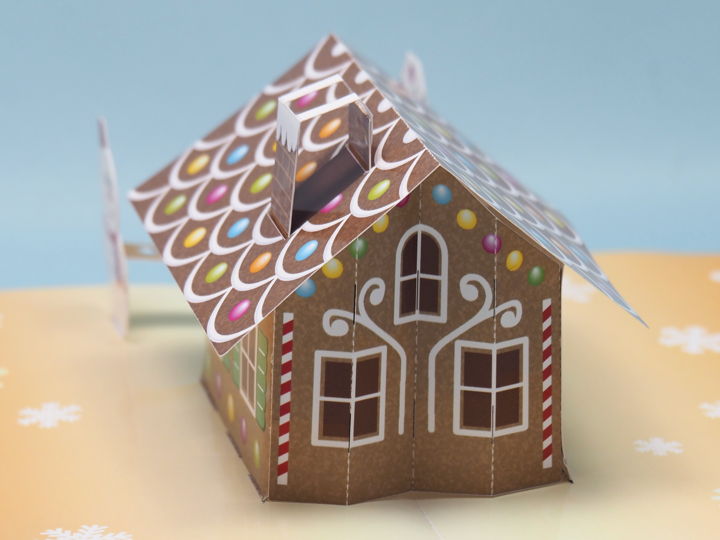 [Postscript] (2022.12.11)
At the time of posting, I was busy updating the main site and had cut corners on the blog, but it was too short, so I added this.
The common English notation of a house made of sweets is  "gingerbread house". It is so called because it uses gingerbread (a pastry made with ginger) as its base.
I only make gingerbread houses out of paper, but since they are based on sweets, people make them out of actual sweets of course. If we search for "gingerbread house template", we will find many paper patterns.
I found a lot of paper craft templates mixed in with the actual gingerbread house templates, so it seems that gingerbread paper crafts are also common.
I hadn't checked at all before I made my card, but of course there are many gingerbread house pop-up cards made and sold as products.
I don't want to confess that I thought to myself, "It was not necessary to make this card..".
Back to the sweets.
Gingerbread houses are called "Rehkuchenhaus" or "Hexenhaus" in German. The German word "Rehpkuchenhaus" means a house using a pastry called "Rehpkuchen," so it is similar to a gingerbread house, but "Hexenhaus" means "witch's house".
Originally, the word was used to refer to the witch's house made of sweets in the Grimm's fairy tale "Hansel and Gretel," but it has since come to refer to miniature houses made of sweets as well.
In Japan, the word "Hexenhaus" is often used, and kits of Hexenhaus are also sold. There are also cookie cutters for cookie houses.
Everyone likes to make things.
Making things is fun.
---