Pop-up card of the World Heritage in Greece
This is the first update of the new year. Thank you all for your continued support this year.
I made a pop-up card of Greek World Heritage Site. This time, I chose from "Paleochristian and Byzantine Monuments of Thessalonika".
The first pop-up card is the Church of Agios Demetrios.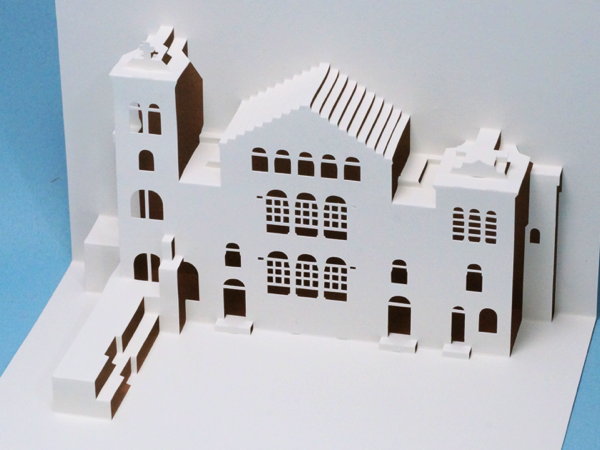 Thessaloniki is one of the most important cities in ancient Macedonia, with many buildings and ruins such as ancient Roman buildings, Byzantine Christian cathedrals and mosques under Turkish rule. From such a situation, I chose 3 buildings to making pop-up this time.
The Church of Agios Demetrios does not look very old.
Thessaloniki was hit by a big fire in 1917, and the curch was destroyed by fire. Before the fire, the church was which built in the 7th century, then the current church was rebuilt using the old building materials as much as possible. It took more than 20 years to rebuild, from 1926 to 1948 (although I saw a sentence saying that it was completed in 49).
In the 5th century the church was existed already. It was burned out by fire, so the next church was built in 7th century.
The second pop-up card.
Hagia Sophia.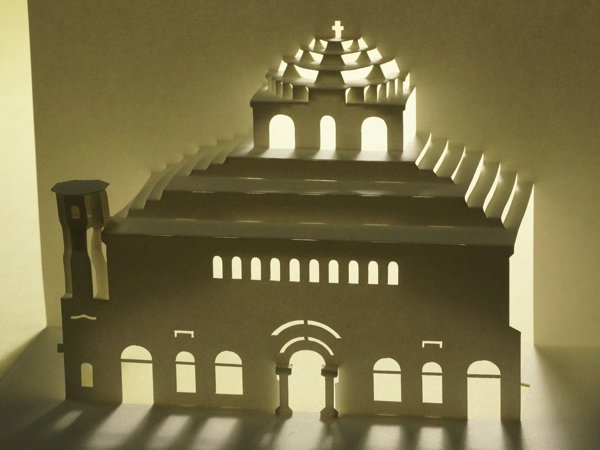 It was built in the 8th century. It seems that mosaics of religious paintings were not made at first. When this church was built, it was a time that icon worship was forbidden. Later, in the 9th and 11th centuries, mosaics such as the Ascension of Christ and the statue of the Virgin were produced.
Since it was used as a mosque during the Ottoman era, those mosaics were plastered. (Currently, plaster has been removed.)
This church has a tower on the left side. Regarding making card, I didn't want to extend the support part to the back, so I cut out another part from the ground and glued it to the roof part to support the tower.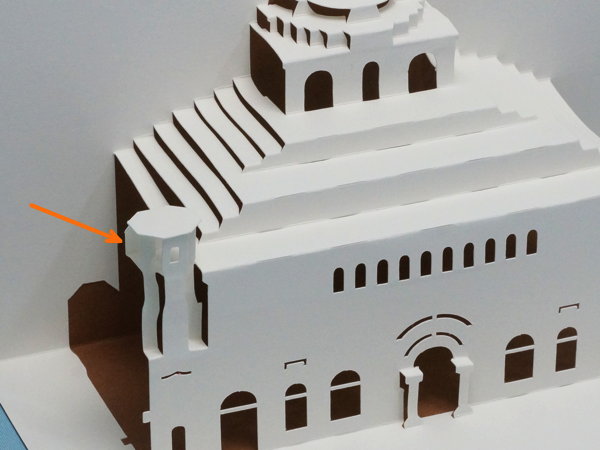 The third pop-up card.
Church of the Acheiropoietos.
Built in the 5th century, it is considered to be the oldest church in the city. This church was also used as a mosque during the Ottoman Empire.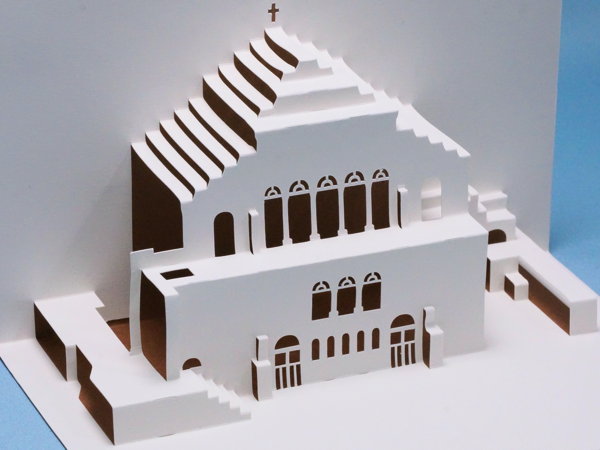 Currently, the road is passing high (the top of the stairs on the left is the road). I couldn't see the base of the building well, so I searched for various pictures.
Personally, I like this one the most of the three, so I decided to publish this pattern.
As usual, the password is sent by automatic reply, so please use it if you like.
In addition, I have set up a "Privacy Policy" page on the main site.
The site has forms for sending a password, so I thought it would be better to write the policy.
I also use Google Analytics, so I've mentioned that as well.
I don't like advertising, so I haven't used it on my site yet.
I look forward to your continued support of this site.
(Translated : 2021.02.23)

---