Pop-up Card of the World Heritage in Bangladesh
The main site has been updated.
This time, the pop-up card made with the model of Bangladesh's World Heritage Site.
This photo is the Ronvijoypur Mosque that I wrote in my last blog.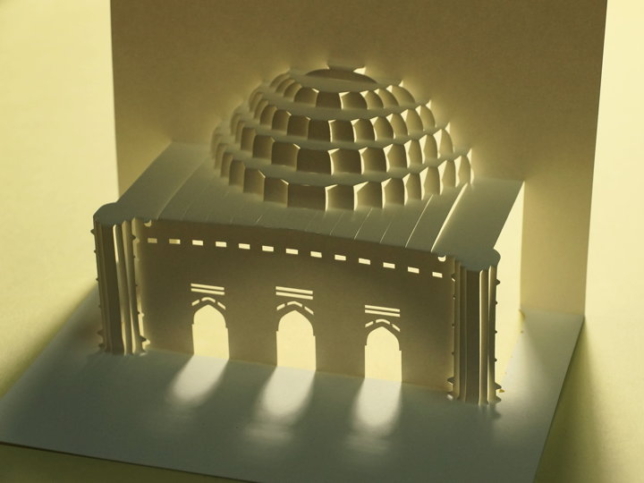 The world heritage name is "Historic Mosque City of Bagerhat".
Built in the 15th century by Khan Jahan Ali, a warlord of Turkish descent, the city is said to have had as many as 360 mosques at its peak.
The Ronvijoypur Mosque is also estimated to be built in the 15th century.
Currently, only eight mosques and mausoleums remain in the "Historic Mosque City of Bagerhat". All built of brick, the pillars inside are often stone. It is characterized by the gentle convex curve of the eaves and the cylindrical towers at the four corners of the building.
The remains are distributed in a range of 6.5km east-west and 3km north-south, and they are roughly divided into the west group and the east group.
The representative building of the West Group is the "Shait Gumbad Mosque". (Sometimes it is written as "Shait Gambuj Mosque" or "Saith Gunbad Masjid".)
The name means "60 domes" (although there are actually 77), and the size of the entire building is 48m x 32.5m.
A representative of the eastern group is the Mausoleum of Khan Jahan Ali. The structure of the building is similar to that of a mosque.
This mausoleum and eight mosques still exist.
Looking at each mosque, the most common was a square building with one dome. So, first of all, I decided to make a mosque with one dome. I chose the Ronvijoypur Mosque from them.
For the second work, I chose a different shape mosque, the Nay Gumbad Masjid.
There are 3 × 3 = 9 domes are lined up on a square building.
However, it is a little disappointing that I could only make one row of dome when making cards.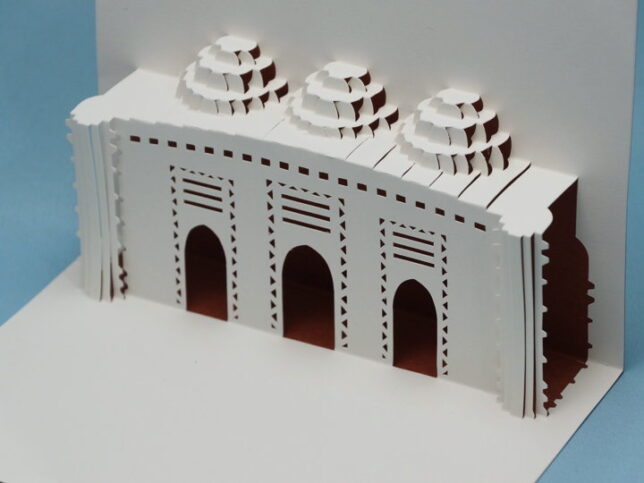 I want to express how the domes are lined up. This time I posted it in this form, but I want to try making it a little differently.
The name of the mosque is sometimes written in English as "Nine Dome Mosuque". I chose the "Nay Gumbad Masjid" on my site.
This is the third one.
As expected, I was reluctant to make "60 domes", so I chose one dome again for the third work.
The name is Chuna Khola Mosque.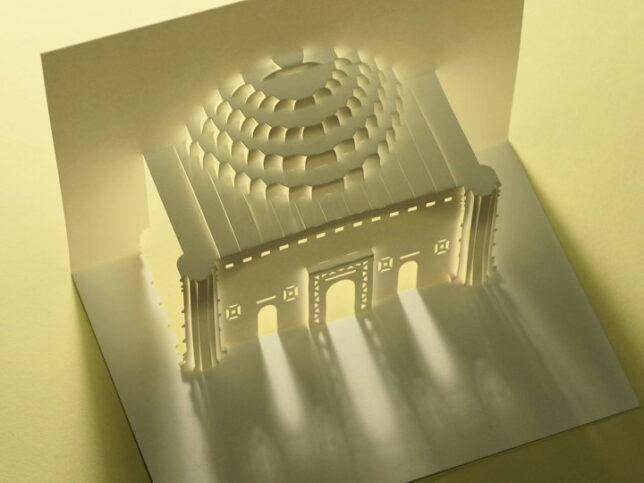 This mosque has a rectangular decoration on the wall, so I cut it out to express it.
This time, the pattern paper for the Ranvijoybul Mosque is available for download.
Please take a look if you like.
(Translated : 2021.03.10)
---