Pop-up card (the buildings in Kagoshima Prefecture)
It's already been mid-January, but finally the site was updated for the first time this year. I look forward to working with you again this year.
This year's start is from the pop-up card of modern Japanese architecture.
I chose the buildings from Kagoshima Prefecture.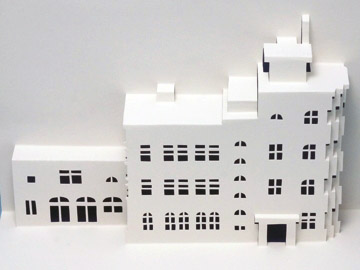 The photo above is the former Kagoshima Weather Station. I made pop-up cards for the former Kagoshima Prefectural Library before, both of buildings are designed by Matsuo Iwashita. Both buildings were designed with curved surfaces at the corners.
The building was renamed Kagoshima Local Meteorological Observatory after the Pacific War, but was demolished after the Meteorological Observatory moved in 1994. A tax office was built on the site (completed in 2001), the exterior of the building was designed to take advantage of the image of the old meteorological observatory.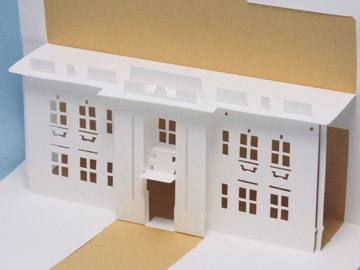 The second photo is the former Dai Hyaku-siju-shichi Bank head office. It is currently used as an annex to the Kagoshima Bank head office.
This photo is the former Shuseikan Machinery Factory. Currently, it is used as a museum, Shoko Shuseikan. This building was built by Keio era before the Meiji era. Making the entire horizontally long building as a card, the height will be very low, and it will be difficult to fold. This type is not suitable for publishing paper patterns.
This time, you can download the paper pattern of former Kagoshima Weather Station.
Today, January 17th, 21 years have passed since the Great Hanshin-Awaji Earthquake.
[Addition]
(2016.05.22) The pattern download of the former Kagoshima Weather Station was closed.
---