Pop-up Card (Church in Ukraine 02)
Continuing from the previous Pyatnytska Church, I made another pop-up card of church in Ukraine.
The model is the Saviour-Transfiguration Cathedral, also in Chernihiv.
I don't know what the current situation is in Chernihiv, but a news search turned up a Reuters report on the 17th that "Russian troops killed more than 50 civilians on Wednesday the 16th alone. According to another report on March 23 (EL PASO INC), Russian troops destroyed a bridge that served as an evacuation route from Chernihiv.
Since the Russian army seems to have destroyed also buildings by shelling, I do not know what is happening to churches and other architectural structures now.
The Pyatnytska Church and the Saviour-Transfiguration Cathedral are only about 600 meters apart. There are several other churches and historical buildings in the area, which is designated as a historical reserve.
About the model for this card, the Saviour-Transfiguration Cathedral.
The cathedral was said completed in at least 1036.(There are other opinions as well.)
It was severely damaged during the Mongolian invasion in the 13th century and was extensively restored in the 17th century.
However, it was destroyed by fire in the mid-18th century and rebuilt after that, so it is not clear how much of the former cathedral remains.
I heard that the entrance hall and other parts were enlarged at the end of the 19th century, and the church took its present form.
In 1937, during the period of the Soviet Union, the church ceased to be used as a church and was designated as a museum. It was used as a church again from 1942 to 1961, but then became a museum again. It was not until the late 1980s that it reopened as a church.
As I mentioned earlier, it is now part of the National Architectural and Historical Reserve "Ancient Chernihiv".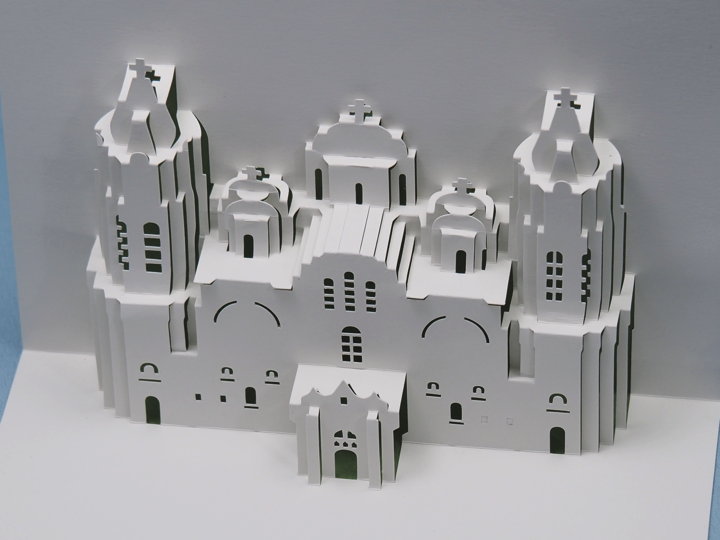 I folded the pop-up card and found this one more difficult than the previous one, the Pyatnytska Church. So I am pondering which pattern to publish.
I plan to update the main site by the end of March at the latest.
[Reference] (Ukrainian website) *I checked with automatic translation.
* Україна Інкогніта "Ukraine Incognito"
---